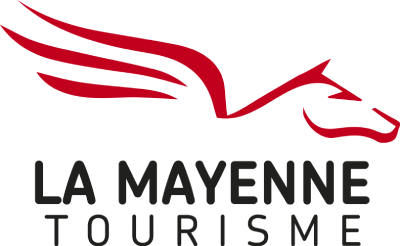 The oldest hotel in town
Built in 1607, generations of Laval residents have known it under the names of the Grand Dauphin or, more recently, the Hôtel du Zeff. By calling it "Auberge des Remparts", Nicolas Cribier has addded his historical page to the story. "I opened in 2004 but it took me a few years to make the hotel look exactly like I wanted to for my customers."
Furniture, trinkets, utensils and appliances from the 1940s, 1950s and 1960s, books and collections, all presented with taste and imagination. Everything is unexpected, but each object has found its place. In the reception area, in the living room, in the unusual and unique atmosphere of each room, the atmosphere makes you feel good, at home, somewhere you'd like to stay.

MAYENNE AT BREAKFAST
You'll meet Petit, the faithful boxer and the benevolent skeleton Maurice (in a tuxedo and top hat) and of course Nicolas himself, who welcomes an eclectic clientele who have discovered this warm and unique, offbeat hotel, which always remains professional for business guests.
While no catering is offered (there are restaurants very close by), the Mayenne breakfasts are sumptuous: Cheese, apple juice, cold meats, local cheeses, homemade jams and much more.

Once upon a time, the oldest hotel in Laval! L'Auberge des Remparts!
I am committed to:
making sure that what you find above all in my hotel is a unique place of exchange and sharing. The hotel tells the story of our lives through objects that I have found, one by one, over more than 20 years.
offering products that are deliberately not packaged, in order to minimize our impact on the environment.
offering local products for breakfast – Entrammes cheese, Chantrigné raw milk butter, and Saulges cold meats, the perfect accompaniment to the jams and pastries that I prepare for you throughout the seasons.
Nicolas

"My favorite place, my refuge, is Bois-Gamats wood. We can get there in three minutes and a complete walk around takes an hour. It's at the gates of the city, but is already in the deep countryside. That's Laval!"