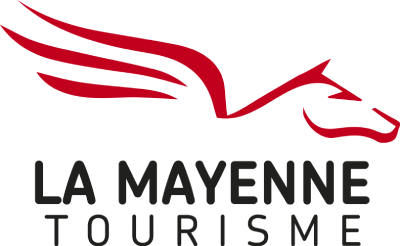 A village dream
A plot shaded by tall trees. The high buildings of the former Cistercian abbey, now a spinning mill, a vast bucolic pond with its water mill, the silhouette of a chapel…
Around the square again, a building of rare harmony.
And, nearby, charming little houses set between gardens and meadows, a farm too.
As soon as you arrive, you will feel the soothing serenity of this clearing in the Salair woods. You will understand why people from here come and return.
Les Toiles de Mayenne
This serene architecture, bathed in nature, is that of the village built by the spinning mill to house its employees.
Fontaine-Daniel is the cradle of the Caniles de Mayenne, a reference in the manufacture of cloth for two centuries.
A top-of-the-range brand of upholstery fabric, Toiles de Mayenne has been awarded the "Entreprise du Patrimoine Vivant" (Living Heritage Company) label. Custom-made and finished products are always made on site.
A short walk through the village leads you to the attractive showroom.
Prolonging the pleasure
Fontaine-Daniel is undoubtedly one of the most surprising and pleasant villages in the Pays de la Loire region.
It also boasts a restaurant serving traditional cuisine, a crêperie on the pleasant terrace, a bakery and tea room, picnic tables and a cooperative grocery shop to discover…



The Fontaine-Daniel grocery shop
Élise and her team keep this cooperative grocery shop alive, which has become the beating heart of the village, the place where people like to get together, talk and linger.
You can find local food products, mostly organic. And a bistroquet corner to quench a little thirst or hunger after a walk.
There is also a bookstore, internet access and lots of information about the village and the surrounding area.

Did you know that?
This island of stone and nature is a mecca for ecological awareness.
The village festival (beginning of September) has become the Earth Festival, attracting researchers, authors, activists and family audiences to debate, discover and share.