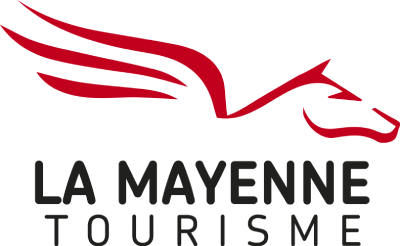 Musee Du Chateau De Mayenne Vallee De Haute Mayenne Mayenne (ville) Cp Pascal Beltrami Mayenne Tourisme 1920px
Musee Du Chateau De Mayenne Vallee De Haute Mayenne Mayenne (ville)

Castle fortress
An admirable fortified castle, built on the remains of a Carolingian palace, classified by historians as the oldest in Europe. As a result, the visit becomes a captivating exploration through twenty centuries of history: those of this emblematic building and more generally of the history of the Mayenne.
We follow the thread of time. By exploring the rooms and descending the stairs. Like a treasure hunt through the stones saturated with anecdotes.
A Carolingian palace, a powerful fortress, burnt down several times, occupied by the English, it even became a prison until the middle of the 20th century.
Museum
The museum now houses some of the major works from the area's history.
It also presents exceptional collections of objects found during recent excavations: coins, domestic objects, religious objects, military furniture, funerary furniture and game pieces.
An extraordinary collection of pawns and tokens can be seen here: a board with its 52 tric trac (backgammon) tokens from the 10th – 12th century, dice and chess figurines, all made of bone, deer antler or ivory.
Animations
In the summer months, the programme of events acts as a call for creativity. Escape game, workshop for the youngest, family games. If you are a volunteer, you can even eat or fall asleep for a night at the fort.
The castle also hosts original temporary exhibitions (contemporary FORT, medieval cuisine, table games in the Middle Ages, Japanese moments, etc.).




Garden
The good weather has returned, it's divine.
We take the opportunity to make a passage through the museum's medieval-inspired garden.
It was created from historical documents on plants and gardens of the Middle Ages.
It adorns the upper courtyard of the castle.
It is a journey into the learned horticulture. Plants and shrubs are classified here as they were in the Middle Ages: simple, aromatic, edible, "magic", medicinal or decorative.
You can pick up a few leaves of St. John's wort…

Did you know that?
Mayenne Castle, over 1000 years old, is one of the best preserved civil buildings from the High Middle Ages in Europe and is classified as an archaeological site of national interest.
It also has the "Tourism and Disability" label for the four types of disability (motor, visual, auditory and mental).