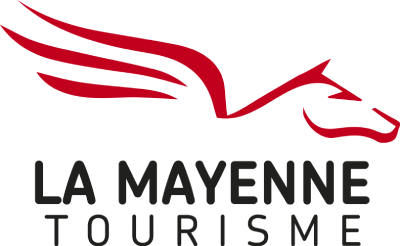 Cows' names
On the farm, the cows used to be named. Today, at The Orée, the three bedrooms in the old barn each have a cow's name!
The Orée today is a haven of rest on the road for holidaymakers: "Often people are tired when they arrive, but after a good night's sleep they feel so much better. While they they sometimes say they're in a hurry, they are always much less so after breakfast, which sometimes takes up a good part of the morning.
This is the kind of welcome I wanted to develop. I love contact with people."

A corner of Mayenne to discover
When people arrive at my house, perhaps attracted by the large courtyard, the fact that they can bring their pets or the fact that we're signed-up to the Quality Charter of Gîtes de France, they don't always necessarily realise that they are in Mayenne. It's up to me to help them get to know and appreciate our département, where tourism is still little developed.
Many people come back every year for a stopover of one or two nights in Mayenne. "During the two years of renovation work before we opened, I had time to discover a side of Mayenne that I didn't know. I took the time to introduce myself to the owners of other guest rooms and restaurants. I never felt like I was seen as a competitor."

When you tell me that you slept well, or that you feel at home, that's what I like to hear best. I hope you feel just as much at home here as I do!
I'm committed to:
sharing special moments with you around breakfast with a basket of breads and homemade jams. My kitchen always has the lovely smell of fresh bread baking.
helping you plan your visit and suggesting things to do for the day and restaurants for the evening. Our chats often end in laughter!
ding a tour of the the garden for those who want to meet the goat, the ducks, geese, chickens, cats and dogs, and when children come to stay there is always a chance you'll find me with them outside after breakfast.
Wendy

"The prehistoric caves of Saulges and the surrounding countryside. It's really something extraordinary to have such a marvel in Mayenne."